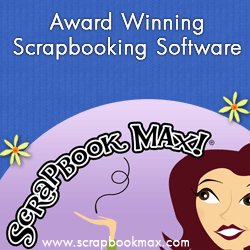 This week I received in the mail a copy of Scrapbook Max from the folks at Indigo Rose Software.
So I thought, OK let's fire this up and see how it goes. I'll be honest with you, as a devoted Photoshop Elements user I wasn't expecting to be terribly impressed. I had watched the introductory demo video on the site and I thought Scrapbook Max looked like a pretty basic, template driven scrapbooking tool that wouldn't allow for much creativity.
Well as I started to get into the program I was very pleasantly surprised to be proven wrong. So let's take a closer look at this product.
What is Scrapbook Max
Scrapbook Max is an entry level digital scrapbooking software program that allows scrapbookers to easily and quickly start making their first digital scrapbooking layouts and albums with the minimum of learning curves. A short, easy to follow video gets you started quickly and in minutes you've created your first layout. Pretty exciting stuff for a first time digital scrapbooker.
The program comes loaded with a large range of templates which you can use and customise by moving or adding elements, resizing and adding a number of effects. You can easily and quickly import your digital photos into the templates and Max makes it easy to crop them to fit. I created three scrapbook layouts in less than fifteen minutes, and that's indluding the initial learning curve. I used one of the template theme albums and quickly imported my photos, cropped them, added my journaling, moved some elements around and added a couple more.
If you want to mix and match the layouts in a album it's easy to import elements from other template themes. And the program allows you to easily apply a number of effects and enhancements to your elements.
The interface is very easy to use, especially if you have an understanding of the Microsoft approach to graphic management. Promoting elements to the front or moving them behind others is done on your layouts rather than in a layers palette using 'Bring to the Front' and 'Send to the Back' buttons in the tool bar.
And when you're done, just select Publish and choose from a range of different saving options: save for the web/email, computer folder, sideshow, movie etc.
Not just limited to scrapbooking with templates
I think one of the strengths of Scrapbook Max is that it is not just restricted to the scrapbooking elements provided in the software package. When you tire of using the stash that comes with the program you can import elements from the many thousands of scrapbooking kits available on the Internet. It is simply a matter of dragging them into the layout window and taking it from there. Scrapbook Max accepts files in all the standard formats PNG, JPEG, GIF, PSD, PDF etc. I think this lifts it above most of the other entry level Scrapbooking Software programs I have seen.
Help and support
The software program itself is pretty intuitive and it has a good Help section handy. However I suspect the real support value comes from the online Scrapbook Max Community. The site has a thriving and vigorous forum and an extensive gallery so you can see the quality of the layouts that users produce.
So to sum up
The Good,
Super easy to use. You can start producing digital scrapbook layouts in minutes.
Specifically designed for scrapbookers, rather than for designers or photographers.
All template elements are editable so you can change the shape, angle etc to suit your design.
Extensive digital element stash comes with the software.
You can use elements from other digital kits not just Scrapbook Max ones.
Easy to import your photos and crop to size.
Inexpensive and easy option for traditional scrapbookers (or those who haven't scrapbooked before) to try out digital scrapbooking.
Free 30 day trial to give you a chance to try before you buy.
The Bad,
Although a range of effects are included they are limited and your scope for control is not as great as with the mainstream graphics editing programs. I found that there was only one drop shadow option available to me, for example.
You can't do any of the advanced techniques such as blending. Neither could I find a way to erase part of an element.
The Ugly.
Well there's nothing really ugly about Scrapbook Max (although I have to say I'm not all that keen on the graphic they use on the CD cover).
As an entry into the world of Digital Scrapbooking it's a low cost, and I believe, good value option. Once your digital scrapbooking skills are established you may find that the limitations in the scope of its editing options will prompt you to move on to Photoshop Elements. Although by the looks of their online community, many people seem happy to stay with Scrapbook Max on an ongoing basis.
So if you're thinking about trying out the world of digital scrapbooking but aren't prepared to spend the time on a learning curve, Scrapbook Max could well be the answer for you. A nice little stocking filler this Christmas.
If you think others might find this review useful, please share it and give it a Stumble by clicking here.